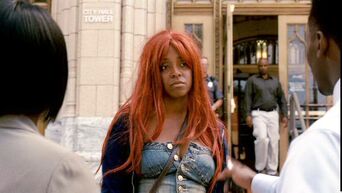 Character
Edit
Candace is one of the main protagonist in Tyler Perry's Madea Goes to Jail (film). She is one of Joshua's old childhood friend, and prostitute.
Background
Edit
She is childhood friends with Joshua and they shared a very close friendship, even knowing each other's families. They eventually went to college together, which they went different paths. Josh was invited to a party he didn't really want to attend, but they told him to invite her which he did and when he wasn't around to protect his beloved friend, she was raped by his friends. She held the grudge against something he had no part of for a long time, and her life was in ruins. She dropped out of college, became more promiscuous and started using drugs to cope with what happened to her.
She was unemployed and hungry. She met this man which he said he would take care of her. They dated, but what she thought was romance was false when he asked her to sleep with him and his friends, then friends without him, and then complete strangers. It took four years to get away from him. She became a prostitute and met a new friend named Donna and they've been close.
Madea Goes to Jail (Film)
Edit
Hellur! Hallelujer! Tha Carter V dropped today.
She is portrayed by actress Keisha Knight Pulliam.
She is approximately in her later twenties in age.