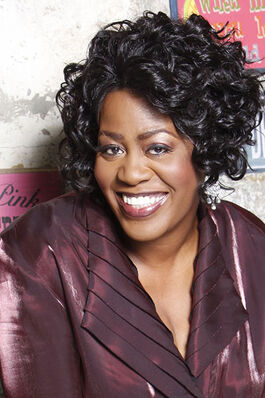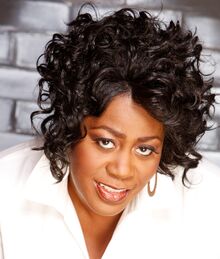 Chandra Currelley is one of Tyler Perry's most beloved and iconic stage play performers. She is most known for her breakout roles Tyler Perry's Laugh to Keep From Crying, Tyler Perry's A Madea Christmas The Play, and Tyler Perry's Madea's Big Happy Family (play). She is an American actress and singer. Currelley has done extensive work with director and writer Tyler Perry, and has played many roles in his various productions and several stage plays. In every Tyler Perry show she is in, while singing, she does her signature "Holy Shake" dance and the audience members respond in ovation.
Currelley was a member of the SOS Band where she helped create and perform the hit song, "Take Your Time, Do It Right" from the late 1980s up until 1992, when Chandra left the band to pursue a career in acting and theater.  Because of her background in theater, Currelley-Young was selected by Debbie Allen to be the featured soloist in her production "Soul Possessed" which debuted at the Alliance Theater in Atlanta, Georgia.
Her breakout role came when she starred in the 1995 Apollo Revival of The Wiz as Evillene The Wicked Witch of the West, and received a Tony Award for Best Performance by a Lead Actress in a Musical. Currelley- Young was then asked to perform in the David Petrarca's hit production, "Dinah Was", the story of singer Dinah Washington.[4] She established her acting career by appearing in Tyler Perry's Madea's Big Happy Family and many other of his productions.
Chandra Currelley
250px


Age

56

Date of Birth

September 4, 1961

Best Known For

Tyler Perry Plays

Two Tyler Perry Movies: Tyler Perry's Diary Of A Mad Black Woman and Tyler Perry's Madea's Big Happy Family The Movie

One Tyler Perry TV Show: Tyler Perry's For Better Or Worse

Roles with Tyler Perry

Shirley (Tyler Perry's Madea Big Happy Family The Play)

Lillian Mansell (Tyler Perry's A Madea Christmas The Play)

Belinda (Tyler Perry's Laugh To Keep From Crying)

Miss Emma (Tyler Perry's Madea's Class Reunion)

Barbara (Tyler Perry's Madea Gets A Job)

Emma (Tyler Perry's I Know I've Been Changed)

Associated Acts

Cassi Davis

Patrice Lovely

Cheryl "Pepsii" Riley

Tamar Davis

Spouse

Larry Young

Children

(1) Agape Young (Male)

Genre

Jazz, Soul, RnB

Sex

Female

Race

African American
Because of her ability to legitimately cross musical and theatrical styles, Chandra has had the opportunity to work with some of the greats from Clarence Avant, jazz legend Roy Ayers, where she recorded the duet, "Let Me Love You", to Tyler Perry. Television credits include VH-1, Say Yes! (TBN) , (BET) Jazz Showcase (PBS) and Good Day Atlanta (Fox), Bobby Jones Artist Showcase (The Word Network) Tyler Perry's "For Better Or Worse"(OWN).
The Helen Hayes and NAACP Phoenix Award Nominee has released 3 solo CD's "Relationships", "The Real Me" and "Love Songs", which contains the hit song "Love Again" from the movie, "Diary of a Mad Black Woman".