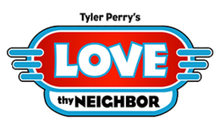 Love Thy Neighbor is an American television sitcom that premiered on May 29, 2013, until August 19, 2017 on the Oprah Winfrey Network. The series is written, directed and executive produced by Tyler Perry. The second season of the series premiered on Wednesday, January 8, 2014. The third season of Love Thy Neighbor premiered on Wednesday, January 7, 2015. The fourth season of the series premiered on Friday, January 8, 2016, while the second half premiered on July 1, 2016. OWN announced the fifth and final season, which premiered on Saturday, March 4, 2017. The second half of the series premiered on July 29, 2017. The series concluded on August 19, 2017, ending with 118 episodes in total.
Love Thy Neighbor is a half-hour sitcom revolving around diner owner Hattie Mae Love and her middle-class family's daily triumphs and struggles. The focal point of the show is a location known as the Love Train Diner, an old locomotive car converted to a diner that serves up all of Hattie Mae's old recipes. It is the neighborhood hang out spot that, along with great food, serves up a whole lot of fun and offers advice to its customers in all walks of life. It also deals with all the drama that Linda faces in her life from bad husbands, to bad boyfriends, to good ones to having a baby girl.
Patrice Lovely as Hattie Mae Love, Linda's cantankerous mother and owner of the Love Train Diner.
Palmer Williams Jr. as Floyd Stanley Jackson (from House of Payne), is Linda and Danny's uncle, through his late brother's marriage to Hattie.
Kendra C. Johnson as Linda Mae Love-Harris, Hattie's daughter and Danny's mother.
Andre Hall as Danny Harris , Linda's 24-year-old son and Hattie's grandson.
Zulay Henao as Marianna Perez (Season 1), just moved from Chicago to Atlanta, where she is the manager of the Atlanta office of Beagal and Steve.
Jonathan Chase as Sam Parker, a self-proclaimed "wild man"
Darmirra Brunson as Drew Scott, Danny's eccentric friend and coworker, who also happens to have a crush on him.
Tony Grant as Philip, a man with a crush on Linda who has two kids with his first wife.
Leigh-Ann Rose as Troy, Drew's cousin, who Danny quickly falls hard for towards the end of the third season.
Recurring
Edit