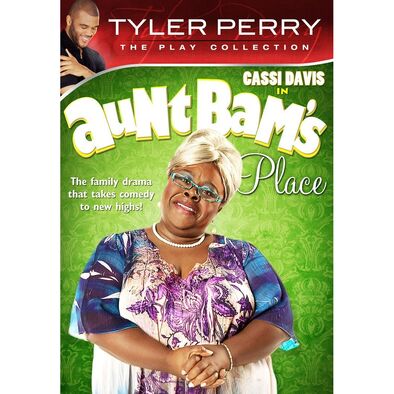 This play was recorded in front of a live audience. It stars Paris Bennett, Melonie Daniels, and Cassi Davis as Aunt Bam. The play will be released on DVD alongside Good Deeds on June 12, 2012.
Get ready for a thrill ride this summer when Tyler Perry Presents Aunt Bam's Place, his joyous new musical stage play set at the home of the riotously hilarious character- Aunt Bam. Aunt Bam is at her best one weekend when her nephew in law, Stewart is granted a court ordered visitation with his children. Although his new, and much younger wife, Mona is a bundle of nerves, Stewart sees the time as an opportunity to reconnect with the children he loves dearly. The weekend has all the makings of an extraordinary visit until Gloria, the ex wife, shows up drunk. It will take Madea's partner in crime Bam, to tame this situation, and set a few things straight. Aunt Bam is played by Cassi Davis. Melanie Daniels and American Idol's Parris Bennett round out this incredible cast of actors and singers. Aunt Bam's Place is written and directed by Tyler Perry.
Cassi Davis as Aunt Bam, the main protagnist and title character. She helps her nephrew-in-law, Stewart and his kids and her niece, Gloria.
Maurice Lauchner as Stewart
Taral Hicks as Mona, Stewart's new wife and Denise and Bryson's stepmother.
Melonie Daniels as Gloria, the main antagonist, who is the ex-wife of Stewart and Denise and Bryson's mother. Gloria has since been acting so selfish, an alcoholic, evil, mean, and has been turning the kids against Stewart by lying to Bryson telling him he hit her and raped Denise as Stewart, through their whole marriage has been good to her, but the reason for all that was because she was mad at God, because her mother died and she started drinking.
Paris Bennett as Denise
Jeffery Lewis as Bryson, the troubled son of Stewart and Gloria, as Bryson is always on his mother's side and being brainwashed by mother as she is giving him drugs like cocaine and lying to him by saying Stewart hit Gloria and raped Denise as Bryson almost died because of a drug overdose, but thankfully made it through. http://tylerperry.com