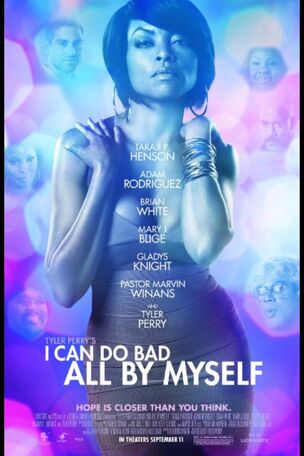 I Can Do Bad All By Myself
is a 2009 American romantic musical comedy-drama film based on the play by Tyler Perry. It stars Taraji P. Henson, Adam Rodriguez, Mary J. Blige, Marvin Winans, Brian White, Gladys Knight, and Tyler Perry. Mary J. Blige adapted a song for the film with the same title.
When Madea catches sixteen-year-old Jennifer and her two younger brothers, Bryon and Manny looting her home, she decides to take matters into her own hands and delivers the young delinquents to the only relative they have: their aunt April. A heavy-drinking madly-selfish nightclub singer who lives off of Randy, her married boyfriend, April wants nothing to do with the kids. But her attitude begins to change when Sandino, a handsome Columbian immigrant looking for work, moves into April's basement room. Making amends for his own troubled past, Sandino challenges April to open her heart. April soon changes her life around after she finds out her mother has died of a brain tumor on the city bus, and after Randy tries to rape Jennifer and April almosts kill him by dropping a radio in the bathtub (she also reveals she was sexually abused in the past) and After Sandino leaves after April accusing him of being a child molester as all he wants to do is help them as he was a child laborer as April apologizes and finds out Sandino is her true love they get married and become the kids' legal guardians.
Taraji P. Henson as April
Adam Rodriguez as Sandino
Hope Olaide Wilson as Jennifer
Kwesi Boakye as Manny
Frederick Siglar as Byron
Tyler Perry as Madea/Joe
Gladys Knight as Wilma
Mary J. Blige as Tanya
Pastor Marvin Winans as Pastor Brian
Brian White as Randy

http://tylerperry.com/movies/i-can-do-bad-all-by-myself/