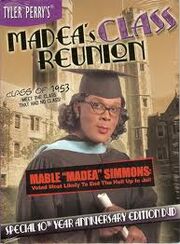 Madea's Class Reunion
.This play was recorded in front of a live audience. It stars Tyler Perry, Tamela Mann, Cheryl Pespii Riley, and David Mann as Mr. Brown. It is also known as Madea's Class Reunion: The Class That Had no Class!
Madea goes to the Pandora Motel to celebrate her 50th class reunion of Booker T. Washington, along with former clasmate, Mr. Brown. As Madea helps a woman, Stephanie, who prositutes herself with her abusive boyfriend, Horace who threatens to kill her and reconciles with her eldery mother, Ms. Emma is was fired by the hotel's evil manager, Ann who is having a affair with her son's father who is married to Cora's friend, Diana, who is to reliant to her man as Madea teaches valuable lessons.
Tyler Perry as Madea Simmons/Dr. Willie Leroy Jones
Chandra Currelley as Emma
Cheryl Pepsii Riley as Stephanie
Chantella D. Christoper as Ann
D'Wayne Gardner as Horace
Anselmo Gordon as Clarence
Ahman Jamal McGhee as Waiter/D.J.