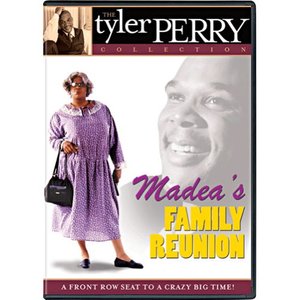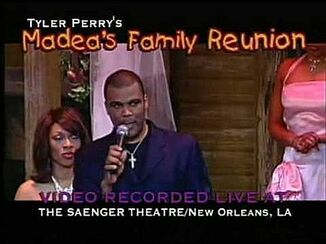 This play was recorded in front of a live audience. The play stars Tyler Perry, D'Atra Hicks, Tamela Mann, and Pebbles Johnson as Vickie. The play also has a sequel,
Tyler Perry's Madea's Class Reunion
.
The fireworks begin when Madea's family gathers for her granddaughter's wedding. As usual, Madea (Tyler Perry) rules the roost, as she and her neighbor the wacky Mr. Brown (David Mann) deliver nonstop laughs. Live, love, rejoice...it's "Madea's Family Reunion"!.
Tyler Perry as Madea
D'Atra Hicks as Jackie
Terry Phillips as Kevin
David Mann as Mr. Brown
Tamela Mann as Cora
Quan Howell as Rev. Jonny Lewis
Pebbles Johnson as Vickie
Gary Jenkins as A.J.
Zakiya Williams as Tina
Sonya Evans as Lisa
Mike Storm as Ronnie
Regina McCrary as Mattie
James Tittle IV as Bryan
Kim Easterling as Aquaneesha