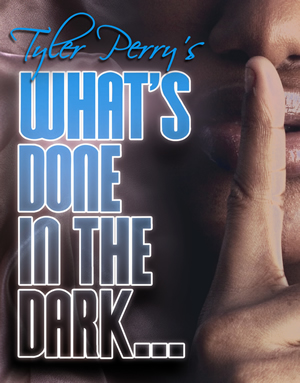 This play was recorded in front of a live audience. It stars Chandra Currelley, Tamela Mann, Latrice Pace, and David Mann as Mr. Brown. This play is the spin off of The Marriage Counselor and Meet the Browns.
"What's Done In The Dark" always comes to light! But that wont stop a group of ER nurses, doctors and patients from trying to hide it, in this newest hit play from acclaimed American playwright/director Tyler Perry. Featuring some of Perry's most beloved characters including the delightfully eccentric Mr. Brown and his devoted daughter Cora, What's Done In The Dark tackles social issues such as infidelity and deadbeat dads with sidesplitting humor and stirring gospel numbers.
Shawna Vinson as Kerry
David Mann as Mr. Brown
Tamela Mann as Cora
Chandra Curelley as Brenda
Ahmad Jamal McGhee as Calvin Jr.
Latrice Pace as Nurse Nancy
D'Atra Hicks as Nurse Trudy
Ryan Gentles as Nick Lovett
Nikki Baldwin as Angela Lovett
Christian Keys as Dr. Harris
Chantelle D. Christropher as Mrs. Bowman
Terrell Carter as Dr. Bowman
Dino Hanson as Calvin Sr.