Tyler Perry's Why Did I Get Married Too? is a 2010 movie and the sequel to the hit movie,
Tyler Perry's Why Did I Get Married? The Movie
. It stars Tyler Perry, Sharon Leal, Jill Scott, Lamman Rucker, Tasha Smith, and Michael Jai White.
Gathering in the Bahamas for what is meant to be an intimate week in paradise for four couples becomes tumultuous when Mike shows up unexpectedly. Troy and Sheila have enough problems with Troy not being able to find employment after the couple moved to Atlanta with their new baby.
Dianne (Sharon Leal) and Terry (Tyler Perry) appear to have resolved their issues from the previous film at first glance, but certain incidents cause Terry to question Dianne's fidelity.
Speaking of fidelity, Angela (Tasha Smith) is up to her same antics, suspicions, and accusations with husband Marcus (Michael Jai White) as she deals with her own insecurities now that he has a new job as an on-air sportscaster.
Patricia (Janet Jackson) and Gavin (Malik Yoba) revealed an emotional disconnect in their relationship with the death of their baby in the first film. By the end of the sequel Patricia and Gavin's perfect marriage façade is exposed and leads them both to the edge of breaking points.
Overall, this film reinforces the bond these couples share. They love and support each other as individuals and genuinely want to see each other happy. Although the film is described as a comedy/drama, there is definitely more drama in this film than in the first. Angela remains our favorite cast member for comedy relief but it's Janet Jackson who gives the breakout performance in her emotional scenes with Malik Yoba.
The film's message is clear. Marriage is a multitude of ups and downs – trials and tribulations. The true test reveals whether love can prevail.
Janet Jackson as Patricia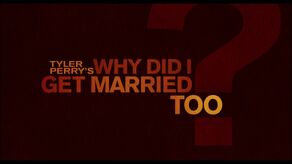 Malik Yoba as Gavin
Tyler Perry as Terry
Sharon Leal as Diane
Jill Scott as Sheila
Lamman Rucker as Troy
Michael Jai White as Marcus
Tasha Smith as Angela
Richard T. Jones as Mike
Cicely Tyson as Ola
Louis Gossett Jr. as Porter
http://tylerperry.com/movies/why-did-i-get-married-too/